Your business needs video content.
It's a fact. Video content is the most effective way to communicate who you are and what you're offering.  Let's face it, you are doing amazing things and most people don't even know about it!  Business video content allows you to shape your brand perception among your audience, and it's a proven way to engage with your customer emotionally.  And as we all know, people typically make decisions emotionally, which is why video content can be so effective.  You need high quality, engaging video content that tells your story and connects with your audience…but most importantly, it must inspire them to take action!

Take a look at some video content we've created for our clients!
Click through the thumbnails to view some of our favorite video projects we've worked on for our clients.
---
Think about it…
Do you think your customers would benefit from remembering and understanding 80% more of your messaging?
Of course, they would!  There is a reason video is becoming more and more prevalent in marketing…because it works!
View us as your own in-house video team.
Many of our clients have an ongoing need for video content.  By working with us on a consistent basis you'll be able to depend on a quicker project turn around, less time project managing, and you'll end up getting more video assets for less money.
Perks of teaming up with the DSD Media Creative Team
Quicker project turnaround for integrated clients
Saves time & money because of our streamlined workflow
After our initial discovery phase, we'll know your brand, industry, audience, and products
Once we start working with you on video projects, we'll have footage and ideas we can build from
If you need other media content to support your video efforts, we have the creative team that can do it all
Ensure that your video content fits seamlessly into your brand and marketing strategy
---
Say "Hello" to Chad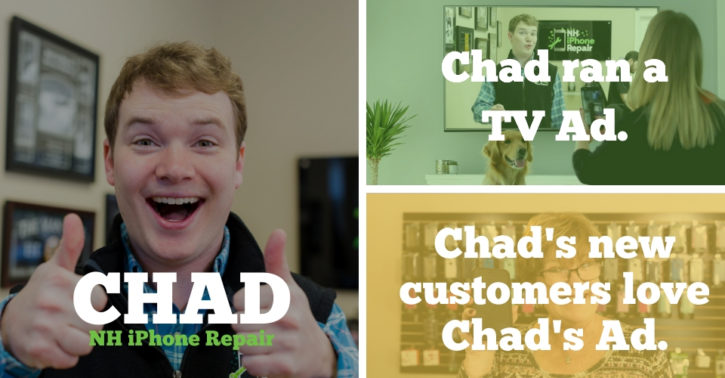 Chad is the owner of a local repair shop for iPhones and other smartphones.   Chad hired us to make a brand video that he could share on his website and social media that really explained who they were as a company, what they did, and why people should choose them.  The first video was a huge success! It was shared by over 800 people, viewed over 125 THOUSAND times and had over 1000 engagements (likes/comments). 
After that, people were constantly coming in mentioning the video and sharing it with their friends whenever someone needed their service.  Since then, Chad has opened 2 new locations and hired 2 people for their mobile service.  Shortly after, Chad hired us to create a 30 second local TV ad which really conveyed their personality, customer experience, and service to a MUCH larger, local audience.  Just a few months later, new customers were flooding his various locations, mentioning the ad and great video content his brand has.
If you've been looking for a way to connect with your potential customers, tell your story, and help your business stand apart, then you are in the right place.

 
With our help, you can develop high quality, custom video content that lets your customers experience what it's like to work with you.  It allows you to showcase what sets you apart, and in turn, they will create an emotional connection with your brand, product or service.
Take a look at some companies we've made videos for